Paradise Pier
The old Paradise Pier hotel is currently in the midst of a transformation. It will soon be transformed into a Pixar themed hotel, matching the Pixar Pier at California Adventure Theme Park. While the name hasn't officially been released, don't be surprised to see it called the Pixar Pier hotel. That is the name we used to refer to it by for years.
If you are planning on staying here, be mindful that there is currently no food service of any kind available. Guests will have to venture out to find food in Downtown Disney or to another hotel. Both the PCH Grill and Surfside Lounge are being reimagined. I am hopeful that we'll have our first Pixar themed character dining location. It is one area of opportunity that has been sorely missed.
The pool is also thankfully undergoing a renovation. Unfortunately due to its age, the pool used to have many problems with leaks. There are many memories I have of taking classes at the hotel and seeing a dripping ceiling. I would expect to see a new waterslide here. Maybe a Luxo ball and lamp? Or Finding Nemo?
The rooms, if I were to guess, will not be too different. Some new paint, artwork, and new drapes and blankets perhaps, but I don't expect the same level of detail as was paid to the Grand Californian. This hotel is not technically given the top priority it should be given since it's considered the 'economy' hotel of the three.
One piece of good news is that a special entrance will be opened to hotel guests near the existing Corndog Castle in Pixar Pier. This is an exciting feature and I can only hope that Disneyland Hotel guests will be allowed to enter here too!
Disneyland Hotel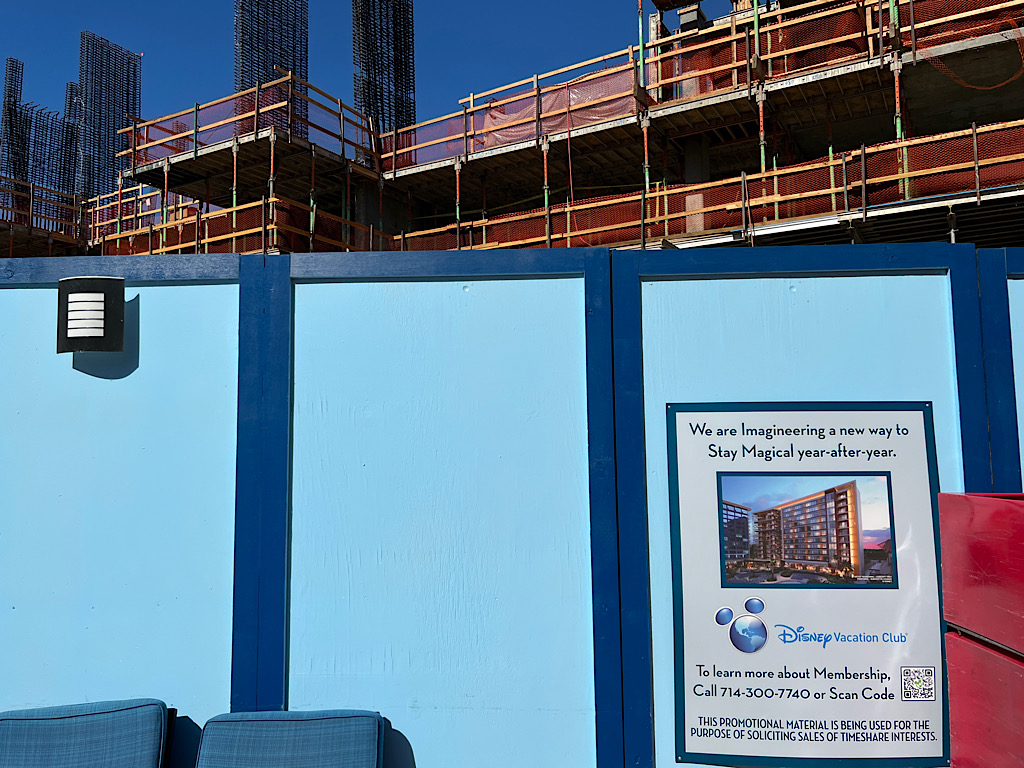 Construction is underway on the fourth tower of the hotel that will be comprised of Disney Vacation Club villas. The tower, between the Frontier Tower and convention center is already 'vertical', though I anticipate it will be at least two years or so before it is close to opening. The scheduled date is 2023.
It is to be 12 floors tall and have 350 rooms. For comparison purposes, Fantasy and Adventure Towers both have 12 floors. Frontier technically has 13 floor, but it's always labeled as 14. In some cultures, 13 is considered to be a bad number. None of the Disney hotels have a 13th floor.
Having worked at the hotel, I have to wonder what the view from the rooms will be like. Half of the rooms will face out towards the residential area near Walnut St. and the other half will face the pool. Additionally, the Disneyland Hotel is going to need much more parking to accommodate guests than it has now. The smart thing to would be to turn the existing Simba parking lot into a Disneyland Hotel parking lot, but as it stands now, that lot is the Downtown Disney overflow lot.
What I would like to see happen is for Disneyland Hotel guests to be able to have their own private entrance to Disneyland Park. The closest location to the hotel is Galaxy's Edge aka Star Wars Land. It would take some maneuvering, but how awesome would it be to have a Sky Tram built from the hotel into Galaxy's Edge?
Grand Californian
There are no updates I have for this location. The energy is being spent on brining the sister hotels up to date.